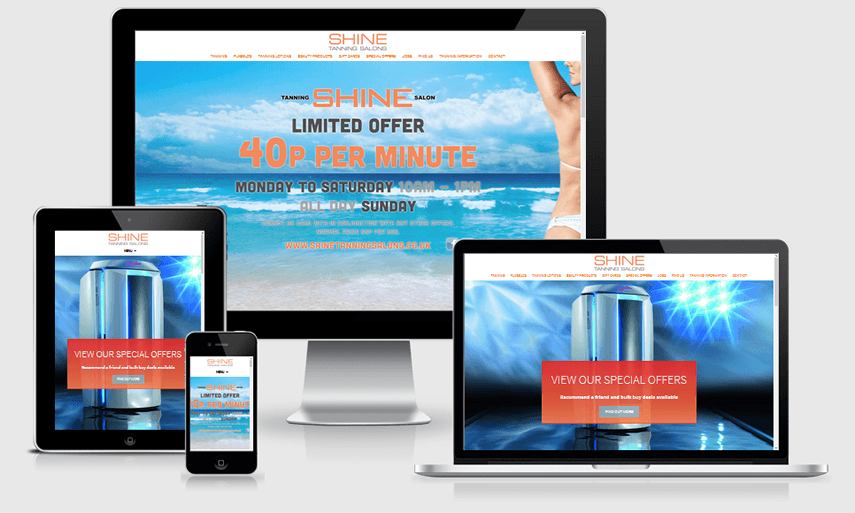 New websites by Active Office Digital
April 11, 2019 |  4years | Digital
Website Design for Glasgow and Ayrshire Businesses
Over the last few weeks we have been busy launching a number of websites for new and existing clients.

Shine Tanning Salon provided us with a clear and straightforward brief, that they wanted a new website to promote their business to replace their dated existing site.

It would become a portal for information about what the salons do, their products and services, that would help to grow the business as they expanded into new properties and areas.

Easy in-house website management
The site is built on content management software, making the site easy to maintain by the client. Even with limited computer knowledge, a CMS offers a simple way for website content to be quickly and easily added and updated. This makes the task of website administration a much more streamlined and cost effective process.

Delivering Websites That Work
The design brief for of Shine Tanning website was to create a welcoming feel with bright, sunny images that would provide customers with the fresh new look that their refurbished salons offer in person.

Through a serious of brief meetings we were able to identify the needs of Shine Tanning Salons, and get a better understanding of their business. This allowed our creative team to deliver a website that will act as the only online offering of the company.

Our Process
We apply the same process to every project we undertake. Our creative team work as an extension of your business to maximise your budget allowing you to get the best results from your online presence.

If you have a Website Development project that you would like to discuss with us we would be more than happy to offer our advice and knowledge. Contact us today on 01563 545977. You can also follow our social networks Twitter & Facebook to keep up to date with new site launches, website offers and much more.