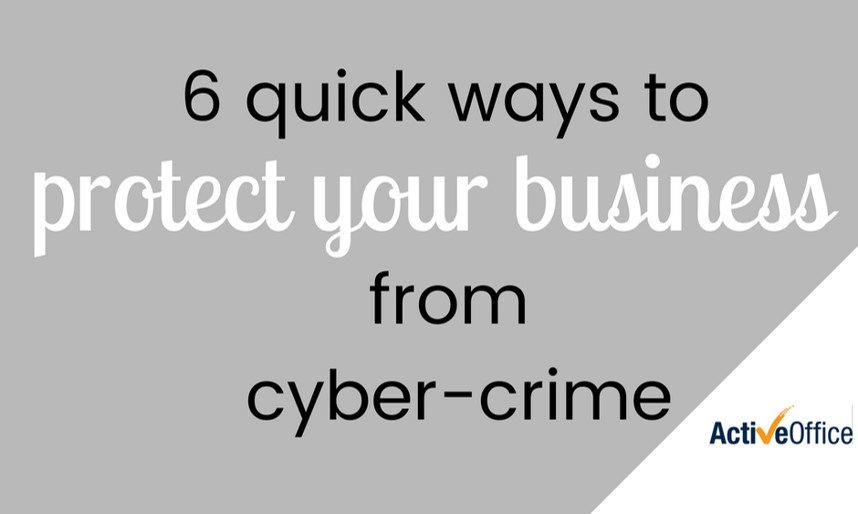 6 Quick Ways to Protect Your Business from Cyber-Crime
April 11, 2019 |  4years | Technology News
Cyber-crime is a threat which businesses of all sizes across the globe are affected by. These attacks can cost a small business owner over £3,000 during a two-year period, and this doesn't include any damage to your brand which may have occurred as a result of a breach in your security. Studies show that even though businesses are becoming more educated when it comes to protection again cyber-attacks, they are still one of the biggest worries business owners face. So, we thought we would tell you 6 quick and easy ways to start protecting your business from cyber-crime.
1. Make security a fundamental part of your company culture.
Policies should be developed and put in place which make it clear what company information can be shared on social media for example, and the guidelines for using devices like USB sticks. Staff should be provided with regular training to ensure they are educated to the highest level when it comes to cyber security. Then, if security is embraced by your entire workforce it will become an automatic behaviour reinforced by your company culture.


2. Encrypt your data.
This idea might sound obvious, but it is so important in ensuring your business has protective barriers in place. From bank details to national insurance numbers, hackers are interested in almost all of the data you hold for your business; your employees; and your clients. Using full-disk encryption, available from most standard operating systems, will allow you to be in control of your company data while adhering to General Data Protection Regulations (GDPR).
3. Secure your hardware.
If you work in an office which the public have open access to, it's important to remember that your hardware – laptops, mobiles or desktops – are the gateway to your network. If one of these were to be stolen, it'd be possible for a criminal to then attack you from inside the walls of your network. If your office falls under this category, then safety precautions such as laptop locks are widely available for surprisingly little cost.


4. Take Precaution When Remote Working
With the rise of remote working set to continue over the next few years, businesses need to make sure they are aware of the cyber security risks when working out and about. The biggest risk is in using mobile phones to access a VPN or company email outside of the office. Mobiles tend to have limited security installed, and are also vulnerable to theft. So, ensure your workforce know the risks, and make it a policy for company phones to be password protected and logged out wherever possible.


5. Be One Step Ahead
Keep up to date with current news about cyber security scams and breaches. Knowing what other businesses have faced will allow you to pinpoint weak areas in your network, hopefully before someone else does.


6. Install Updates Regularly
We know continuous waves of software updates can make you want to pull your hair out, and launch technology back where it came from. However, updates usually include fixes for glitches in security. So, irritating as it may be, having the latest, most up to date software is definitely time well spent.
So, there we have it! 6 quick and easy ways to protect your business from cyber-crime. Follow us on LinkedIn for more. If you have any questions or would like a consultation with one of our specialists regarding how Active Office could help protect your data, then
contact us today.